A few weeks ago, the European Patent Office announced the beta release of the new version of its Espacenet patent search tool.  This post is a brief overview of Espacenet itself and of the beta release.
The beta release of Espacenet can be accessed here:
https://worldwide.espacenet.com/beta
The current version can be accessed here:
https://worldwide.espacenet.com/
Espacenet
Originally released to the public on 19th October 1998, Espacenet celebrated its twentieth birthday last year.  Following in the pioneering footsteps of the United States Patent and Trademark Office (USPTO), the Japan Patent Office (JPO) and IBM, Espacenet was and is the European initiative to bring the largest freely available collection of patent documents, and the ability to search them, as a public service to the global community via the internet.
Data Coverage
Espacenet has the broadest coverage of patent data of any of the freely available patent research tools.  It covers over 100 million published documents from over 100 countries.  Indexed and searchable data fields include title, abstract, description and claims; applicants and inventors; priority, application and publication dates and numbers; IPC and CPC classifications; as well as images, citation data and legal status information.
The new version will continue to sit atop this complete data set, although in the current beta release not all data may be available and this should be borne in mind when using it.
Assessment of Beta Espacenet
My immediate impressions are of a clean, modern interface that improves upon the previous (current) version of the tool.  Some parts are not fully intuitive, however with a little patience and experimentation the features and functionality quickly become clear.  Once this relatively easy learning curve is overcome, the tool is very user-friendly.
Features and Functionality
Having used Espacenet extensively for many years, I find it a powerful and comprehensive patent research product aimed and suited for general patent searching by the public at large.  Exploring the beta version, I'm pleased to see that none of the features or functionality have been lost.  There are, in fact, some welcome improvements.  Also, there are a few areas which might benefit from re-evaluation.
Search
There are various ways of searching databases including:
Simple individual keyword searches (form-based)
Complex, multi-field searches (form-based)
Advanced command-line searches
All three approaches are available in the current version of Espacenet.  Whilst they are also available in Beta Espacenet, only simple keyword searches and advanced command-line searches are presently accessible directly from the primary launch page of the product.  One has to first conduct one of these search types and view the results before being able to access the multi-field search form (labelled "Advanced search").
Having noted this however, once the Advanced Search option becomes available it is clearly significantly improved upon that available in the current Espacenet.  All of the search fields previously available are present, with some valuable additions such as further text fields and text field combinations.  A very welcome development is the ability to create (via the form) complex queries using not only Boolean operators, but proximity operators and nesting as well.  The display for these complex queries is also a very well-designed graphical display showing clearly how the query terms relate and enabling easy editing.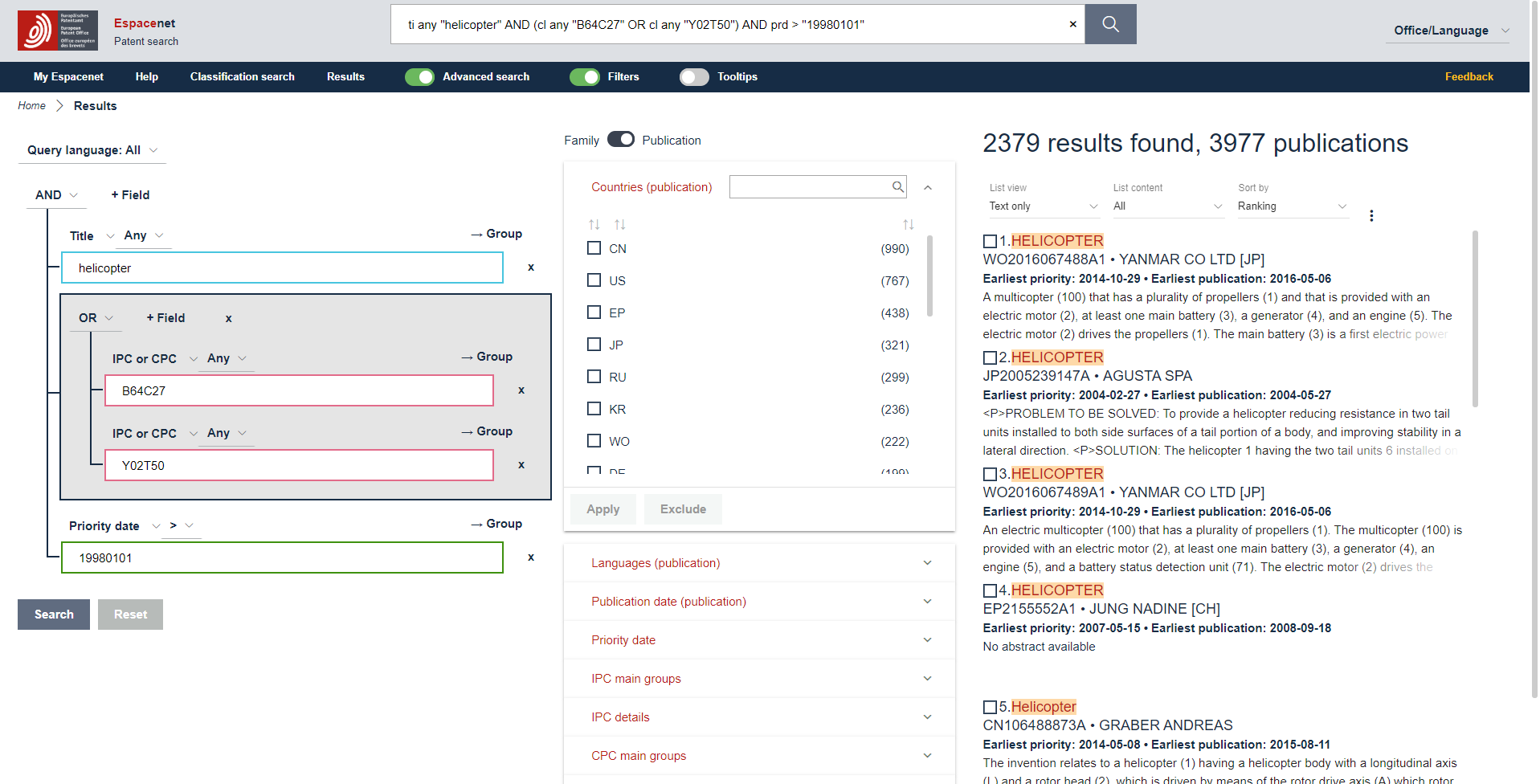 Source: European Patent Office. "Espacenet Beta". Retrieved January, 2019, from: https://worldwide.espacenet.com/beta
My only request for further improvement would be to have this advanced search interface available directly from the home page.  In the current beta version, accessing this interface is a two-click process for professionals used to working with this type of interface, whereas those using either simple keyword searching or command-line searching can start working immediately from the home page.
Results List
The results list is a clean easy-to-read layout, with various display options, including an image-only display, which can be very useful when searching in certain technical fields.
One negative point is the abstracts (when selected to be shown) are always truncated – one has to view the entire record to read the entire abstract text.  I would recommend an option to expand the abstracts to full in the results list if desired, otherwise remove the abstracts all together.
Records can be checked to select only those of interest, and the list conveniently reduced to display that subset.  One downside is that the interface is currently lacking a select/deselect all function.
There are download, print and "add to My patents" options, but these are hidden behind a vertical ellipsis and so not immediately obvious.
One great feature, is that the results list now displays to an unlimited length, rather than the first 500 records as in the current Espacenet.  It also displays an accurate hit count.  This is very welcome for any level of user as there is limited use in a patent research product if one cannot examine all the results found.
Filters
A new feature, and again a welcome one, is the introduction of Filters.  Not only do these enable the user to drill down in their results sets, but they also provide first-level analytics.  This introduces users to the power of patent analytics and enables the identification of other significant search terms, such as key assignees, inventors and patent classifications with which to develop searches.
The filtering function also benefits from the ability to either "apply" or "exclude" the filter selection to the results set.  Although multiple filters can be applied, it appears these can only be applied one at a time, resulting in a multistep process for some activities.  A breadcrumb trail of filter options is also presented enabling the user to undo any filtering option easily, but again only one filter at a time.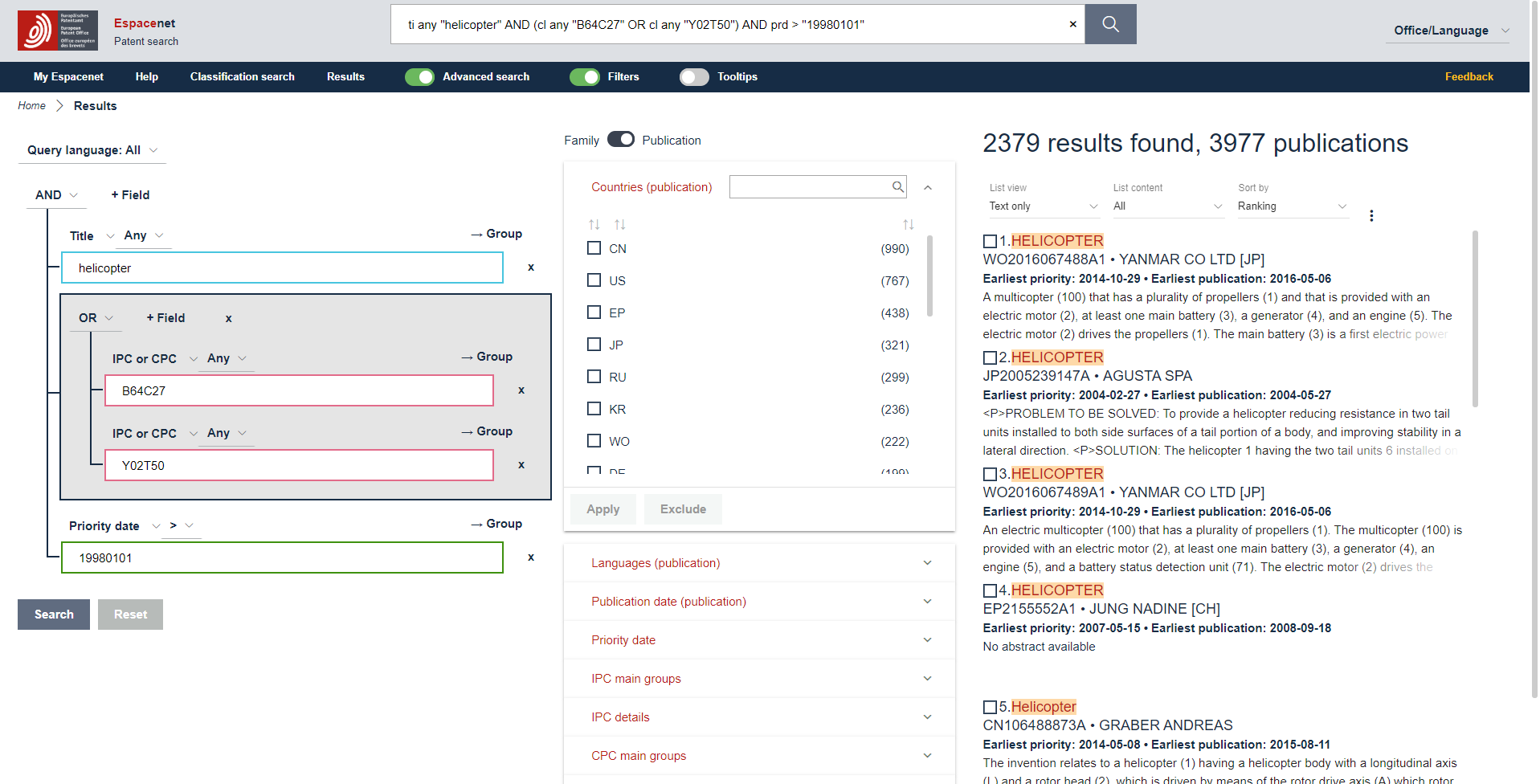 Source: European Patent Office. "Espacenet Beta". Retrieved January, 2019, from: https://worldwide.espacenet.com/beta
Document Display
On the desktop version of the application, the results list, filtering options and individual document display are shown in a clean 3-column layout.  By hiding the filter display results in a one third results list and two thirds document display which is very useful.
The layout of the document data is very clean with all the previous fields available:
Bibliographic data
Description
Claims
Drawings
Original document
Citations
Legal status
Patent family
Of note are the additions of a claims tree (in the claims display) and a clear link to the Common Citation Document of the IP5 (in the citations display).  Both features add a powerful extra level of functionality for understanding an IP right.
The claims tree enables a quick, interactive interface for understanding and navigating the claims structure of a patent to identify the independent and dependent claims.
The Common Citation Document is a real-time application from the IP5 (the patent offices of Europe, Japan, South Korea, China and the USA) enabling users to understand global interest in a patent and its technology through citation activity at these five offices.
Finally, the European Patent Office's Patent Translate function (a collaboration between the EPO and Google) remains available.  It allows text translation between any of the 28 official languages of the EPO's 38 member-states, plus Chinese, Japanese, Korean and Russian.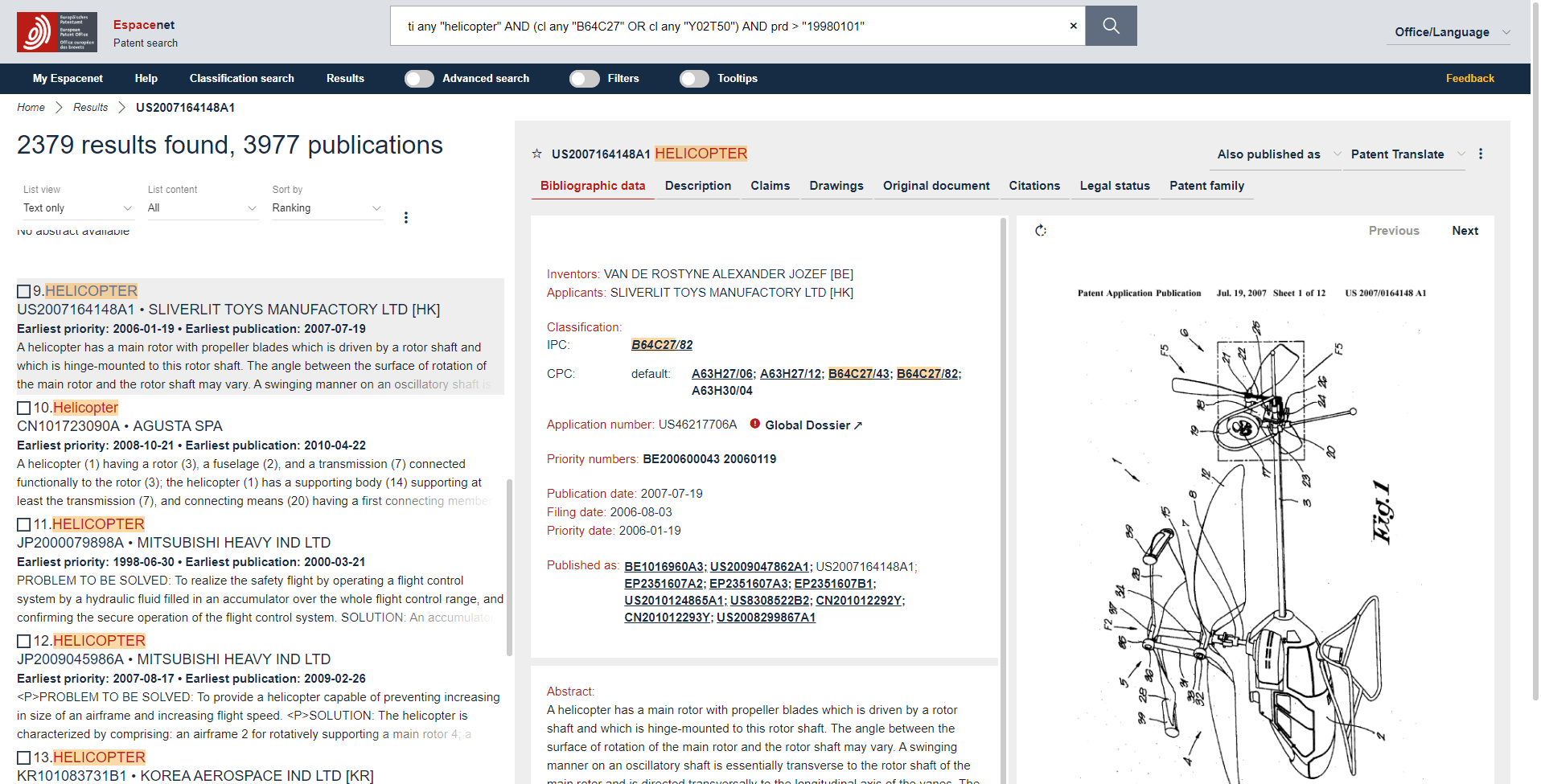 Source: European Patent Office. "Espacenet Beta". Retrieved January, 2019, from: https://worldwide.espacenet.com/beta
Session and Document Management
The My Espacenet feature provides a session log (My queries) and single "folder" (My patents) for managing patents of interest.
My queries is a clean overview of the searches run, with the ability to rerun or delete individual queries.  It does however lack a multi-action function, meaning queries have to be deleted individually.
My patents has the same functionality as the results list, with the same limitations (no select all).  Also, there appears to be no way of clearing the list and emptying the folder for a new project.
Cross-Device Responsiveness
The beta version is responsive across different device types.  Having tested it on a smartphone it maintains a positive user experience and retains the necessary functionality.
Overall Assessment
This is a beta version and the EPO acknowledges that the functionality, data handling or coverage are not yet at production level.  Nonetheless I found this a very positive and welcome development of a powerful and useful tool.
The current power of Espacenet is retained and developed to a new level with a modern, clean interface.  I would expect the beta version (when released to production) to do the job very well for basic (and more advanced) patent searching.  It is a great first step to accessing the wealth of patent information freely available online for initial patent searches and as a way to support your business and ideas strategy, growth and development.  For any business, organisation or individual, whether familiar with Espacenet or not, I would recommend exploring the tool and providing feedback with your own views and requirements to the EPO (there is a feedback link associated with the beta version).
Alistair Curson
References
European Patent Office. (2017, April 26). "Espacenet: free access to over 100 million patent documents". Retrieved January 14, 2019, from: https://worldwide.espacenet.com/
European Patent Office. (2017, April 26). "Full-text (Databases and search)". Retrieved January 14, 2019, from: https://worldwide.espacenet.com/help?locale=en_EP&method=handleHelpTopic&topic=fulltext
European Patent Office. (2017, April 26). "The worldwide patent database". Retrieved January 14, 2019, from: https://worldwide.espacenet.com/help?locale=en_EP&topic=coverageww&method=handleHelpTopic
European Patent Office. (2018, July 19). "Patent Translate". Retrieved January 15, 2019, from: https://www.epo.org/searching-for-patents/helpful-resources/patent-translate.html#tab1
European Patent Office. (2018, November). "Welcome to Espacenet: free access to over 100 million patent documents". Retrieved January 14, 2019, from: https://worldwide.espacenet.com/beta
European Patent Office. (2018, December 20). "Data". Retrieved January 14, 2019, from: https://www.epo.org/searching-for-patents/data.html
Five IP Offices. "Common Citation Document (CCD).". Retrieved January 15, 2019, from: https://www.fiveipoffices.org/activities/globaldossier/ccd.html
Patent Information News. (2018, September). "20 years ago: 1998: the launch of Espacenet". Retrieved January 14, 2019, from: https://documents.epo.org/projects/babylon/eponet.nsf/0/26119727DA986026C1258315003E0D7B/$File/patent_information_news_0318_en.pdf
Patent Information News. (2018, September). "Espacenet: the product that revolutionised access to patent information". Retrieved January 14, 2019, from: https://documents.epo.org/projects/babylon/eponet.nsf/0/26119727DA986026C1258315003E0D7B/$File/patent_information_news_0318_en.pdf